Davido's first baby mama, Sophia Momodu stirred controversy on the internet after revealing she wept when Imade wasn't given her last name.
She made this revelation after sharing a post where a woman vehemently disagreed with the notion of single/unmarried women giving kids their baby daddies' last name.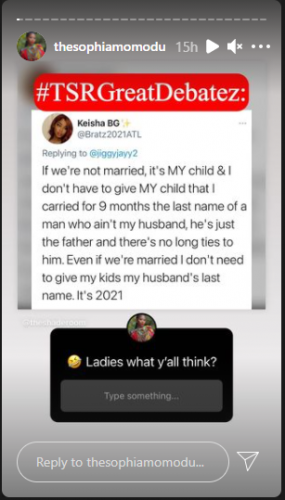 Sophia felt she was in a similar situation and asked her followers for their opinions in regards to the last name issue. A follower replied and told her she disagrees with her first post. According to the follower, a mother who refuses to give her child the last name of the father is cutting the child off her lineage and inheritance.
Her reply hit home and Sophia sent her reply in return. According to her, that was the same reply her mother gave her when she wanted Imade to have her last name Momodu, and not Adeleke.
Shedding light on the sensitive topic, she recounted how her mother and aunties slammed the idea after Imade's Birth. Sophia also disclosed that she cried for some time after her feminist ego was trampled on, but she had to give in and let Imade bear Davido's last name. According to her, she didn't want Davido's last name as a result of the things associated with the Adeleke surname.
Kindly Drop your comment below;