It is of common knowledge that Amala is one of the most palatable dishes that hails from the south-western region of the country – Ibadan to be precise.
It is a dish enjoyed by the people in and around Oyo state and it is mostly served with a combination of bean soup (Gbegiri) and Jute Mallow (ewedu), commonly described as Abula.
Sadly, a Nigerian actress, DJ, and media personality, Dorcas Shola Fapson, fondly called DSF has aired her opinion about the meal and it is not pleasant. According to her, Amala is one of the most disgusting meals she has ever come across and she could care less what every other person thinks.
She shared this via her Insta-story, Random but, Amala is disgusting. I don't care who made it. argue with your tongue.
See post:
Her opinion has cursed a lot of netizens to fire back at her, calling her name for daring to trash the almighty Amala.
Here are some of the comments: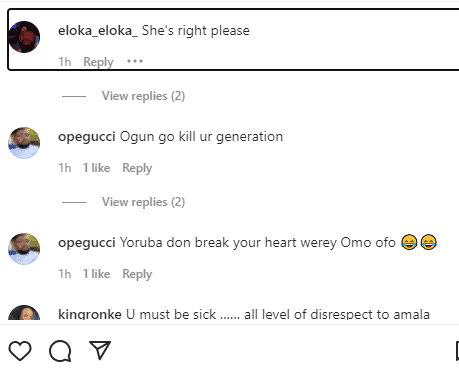 Share This Song With Friends on social media Below: